One application of our mCerberus® MCB-100 device is with the monitoring of a HAAS Mini Mills which are manufactured by HAAS Automation, Inc. located in Oxnard, CA. The HAAS Mini Mill are utilized by small machine shops (some even located in garages) as the input power to the Mini Mill may be configured to 240VAC, 60 HZ, 1 Phase.
The mCerberus® MCB-100 device finds practical use for monitoring a HAAS Mini Mill when the CNC Operator wants to be notified when the milling machine  shuts down due to the end of a manufacturing cycle, power interruption, or any shut off condition.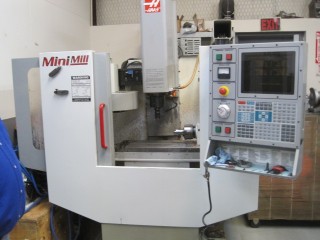 The implementation of mCerberus® MCB-100 device on a HAAS Mini Mill consists of the following steps:
Install the mCerberus® MCB-100 hardware per our Installation Guide
Configure the Notifications settings using your Smart Phone which includes entering your WiFi Network information
Enable the mCerberus® MCB-100 unit by setting the ON/OFF switch to ON
Perform an Installation Qualification by running at least one test case to ensure the system is working properly
At this point, the MCB-100 Monitoring System is enabled. When the HAAS Mini Mill shuts down, the mCerberus® MCB-100 will detect the OFF condition within thirty seconds and transmit a request to send a TEXT message to our Relay Server. Your phone carrier (AT&T, Verizon, etc) will typically deliver a text message to you within 60 seconds.
When the HAAS Mini Mill first turns on there is a large current inrush generated. Our MCB-100 units have been designed with a filtering circuit when monitoring this current inrush to prevent it from resetting itself. The list price of our MCB-100 monitoring system is priced at $249 each. Contact us today at sales@mcerberus.com.